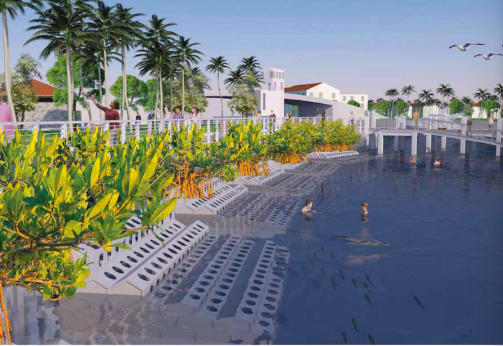 Pompano Beach is in the process of creating an interactive educational underwater marine park for visitors, especially young children. The purpose of this project is to raise awareness of the importance of keeping our oceans and reefs healthy and thriving in an entertaining, educational and memorable way.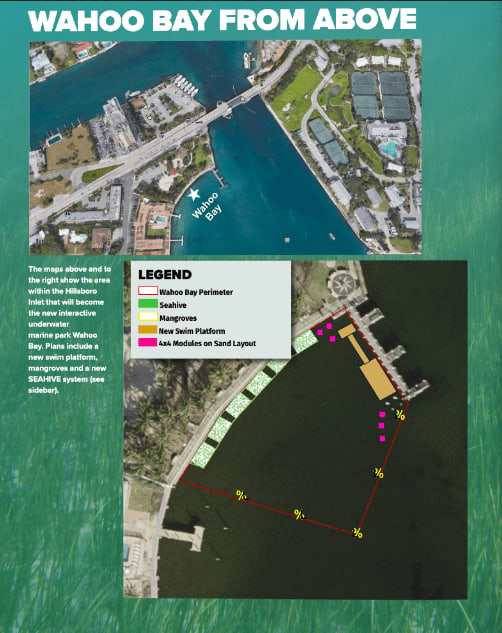 It is located in the shallow waters of the Pompano Beach, FL Hillsboro Inlet Park. It will preserve and enhance the existing natural resources and add different environmentally friendly pieces such as, interactive art, live lab experiments and educational displays. This experience for anyone young and old, will stimulate all five senses. The swimming area is about 6 - 12 ft deep with a few areas reaching 14 ft. Jet skis, boats or anchoring is not allowed to ensure the safety of swimmers in the Wahoo Bay area. But, you don't have to get in the water to enjoy this new park. There will be an adjacent on-shore experience with interactive educational exhibits and areas for open outdoor classrooms to learn about the marine life.

Pompano Beach collaborated with FAU to install weather and water quality monitoring stations to collect data. They will also install SEAHIVE systems to help provide structure for mangroves and other marine life on the sea wall and protect infrastructure and the environment from erosion, flooding and impact from waves. Wahoo Bay will have a website that will feature a vast collection of sounds, images, and videos of Wahoo Bay fish species and educational tools for Pre K – 12th grade students and in the future will have 24/7 live streaming and recording 360 video and audio from the seafloor and the SEAHIVES systems.
Are you looking to join the Pompano Beach community? Check out some homes in the area here.
This project is still under construction.
*Pictures from Pointpubs.com